Description
IN STOCK
The 10 Essential Kit is stocked with emergency and survival supplies that will keep you confident and ready to go when things don't go according to plan.
This kit has been designed around the National Parks recommended 10 Essentials, which are 10 categories of FAK and emergency items that can help you in the event of injuries, sudden weather changes, or unexpected delays. Keep one at home, in your camp, or in the car, and stay safe!
The 10 Essentials dry bag is comfortable to wear, durable, waterproof, and even doubles as a flotation device with the built-in inflation valve.
Details 
+ Dimensions | 23.3" H, 14.1" W, 5" D
+ Capacity | 15L
+ Weight | 8 lbs
WHATS INCLUDED: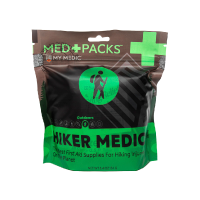 Hiker Medic MedPack™
The Hiker Medic™ MedPack™ is your all-in-one First Aid solution that has everything you need to handle the most common hiking injuries no matter how small or large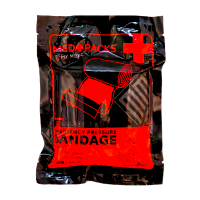 Emergency Pressure Bandage
The Emergency Pressure Bandage is a light, compact trauma dressing for pre-hospital casualty care.
Featuring a sterile dressing, cloth wrapping leader, and velcro for easy attachment.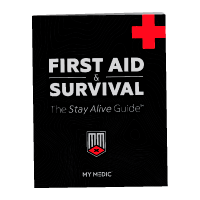 Stay Alive First Aid Guide
A handy first aid & survival guide to help you get the most of your first aid supplies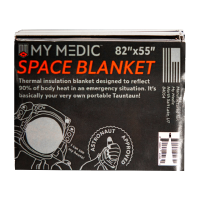 Survival Blanket
The survival "Space Blanket" is a compact blanket that reflects heat and keeps your body heat in so you can stay warm.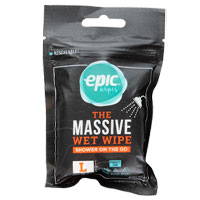 Hygiene Towel 
A massive disposable, biodegradable, and no-rinse cleansing body wipe for when you can't shower. Naturally safe and gentle on your body.
Inflatable Dry Bag
The handy 10 Essentials Bag not only stores your entire kit but also doubles as a flotation device.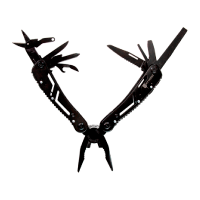 Multi-Tool
This 22-tool multi-tool features needle nose pliers, standard pliers, wire cutters, large & small flathead screwdrivers, philips screwdriver, a knife, and includes a handy pouch with MOLLE loop for easy carry.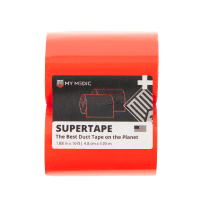 Super Tape
Super-Tape is a compact roll of duct tape that has millions of uses and never disappoints in a pinch.
20 ft Paracord
Found in the Hiker Medic™. This 20' paracord is made with 100% raw nylon materials combined with a minimum of 550 lb. breaking strength.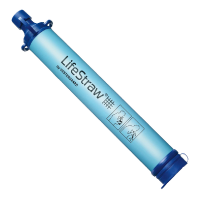 LifeStraw Water Filter
LifeStraw removes a minimum of 99% of bacteria, parasites, and microplastics, and filters water for one person for over 5 years. Includes mouthpiece cap, bottom cap, and a detachable lanyard.
Water Bottle
Our water bottles feature antimicrobial coating for their lining, holds up to 24 oz of liquid and is BPA, latex, and PVC free. Best of all, it easily collapses to fit in your pocket or backpack.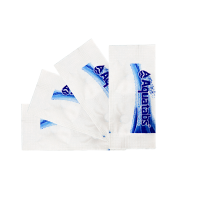 Aquatabs ® Water Purification Tablets
The world's no.1 water purification tablets. These effervescent tablets kill micro-organisms in water to prevent cholera, typhoid, dysentery, and other water-borne diseases.
S.O.S. Food Lab Emergency Drinking Water
This emergency water is triple purified: reverse osmosis, UV sterilized and ozonized, can withstand temperature ranges of -22ºF to +149ºF, and comes in single-serve packaging.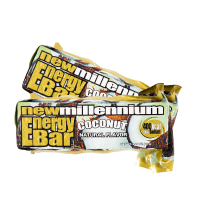 Millennium 400 Calories Food Bars
These food bars maximize the physiological efficiency of water usage by including low sodium levels and also include a sufficient amount of carbohydrates and calories to prevent dehydration.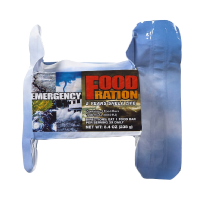 S.O.S. Emergency Food Ration - 400 Calories 
These SOS emergency food rations are US Coast guard approved and have a shelf life of 5 years. The non-thirst provoking formula offers maximum survival capacity.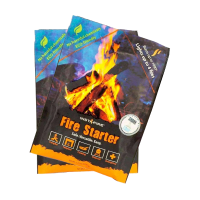 InstaFire® Fire Starter
InstaFire® is a granulated all-natural fire starter that can be used as a fire starter or a complete fuel to cook with or to heat your shelter.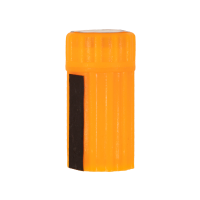 Waterproof Matches
Approx. 40 matches per box. Formulated with a blend of non-toxic chemicals to light in damp conditions. Match box striking surface is treated with a moisture-resistant coating.

Solar Headlamp with USB Charger
This solar headlamp features 1000 lumens of brightness and more than 10,0000 hours of bulb life. It also contains a built-in battery power bank to charge your other devices via USB. Microfiber pouch and strap are also included.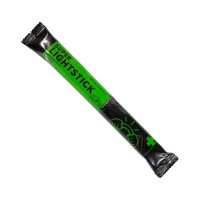 30-hr Light Stick
This non-flammable and weatherproof lightstick provides 30 hours of light and is great for camping, hiking, and other nighttime outdoor activities. Non-toxic and latex-free.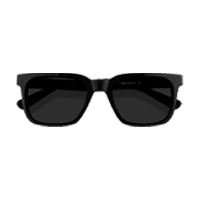 Polarized Sunglasses
Wayfarer style sunglasses featuring maximum UV protection and polarization.
Sunscreen
Found in the Hiker Medpack™. SPF 30+ Sunscreen to help prevent sunburn, especially for those sensitive to harmful UV rays.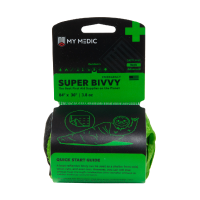 Super Bivvy
This small and lightweight bivvy reflects up to 90% of body heat, making it ideal for creating shelters from the elements. Windproof, waterproof, and quite material.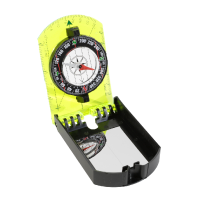 Folding Compass
A folding compass featuring a mirror for sending signals and a declination scale that measures length and distance. Compass includes a microfiber carrying pouch.

Emergency Poncho
The Emergency Poncho will keep you dry and comfortable in wet conditions. Mylar lining reflects 90% of your body heat to help prevent hypothermia in rough conditions.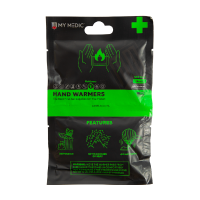 Hand Warmers - 12-Hours
Stay warm and toasty with these long-lasting hand warmers (up to 12 hours). Simply open the pack and you have the heat on the go.
Wool Blend Performance Socks
Performance wool socks will keep your feet warm and ready to go. Soft, itch-free merino wool naturally wicks moisture, regulates temperature, and fights odor.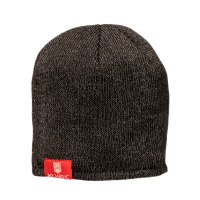 Fleece-Lined Reflective Beanie 
A comfortable and stylish beanie that features a soft fleece lining and reflective material.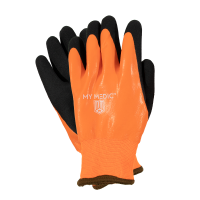 Fleece-Lined Waterproof Gloves
Waterproof, fleece-lined gloves have plenty of grip and will keep your hands protected from the elements.
Armor Empire LLC DBA Marine One Tactical cannot be held responsible for any injuries that may occur when wearing Marine One Tactical body armor or products. We test our products in the independent certified laboratory in full accordance with the applicable ballistic standards however no armor is bullet-proof and ballistic protection can never be 100% guaranteed. Marine One Tactical undertakes all reasonable precautions, including but not limited to testing our products on a regular basis. We guarantee that our products will meet the given ballistic standards but Marine One Firearms LLC is not liable for any injuries that may occur while wearing Marine One Tactical armor or nylon products.
Lead Times:
All of our manufacturing is done off-site. Some armor is manufactured to order and some are in stock ready to ship and payments are processed at the time of checkout.
As a result, we may have production lead times posted on applicable products, such as body armor. Production lead times are updated with our best estimate based on our production schedule and order volume. In some cases manufacturing may take a little longer than expected - in this case, we'll be sure to provide updates along the way and notate accordingly. Due to the level of demand and production lead time, some armor is manufactured to order and payment will process at the time of checkout.
Know that we make every effort to ship as quickly as possible. We will, however, never sacrifice the quality of our product and the integrity of our business by rushing sub-par products out the door. Good things take time to do right, and there are no exceptions to our product.
If the product is in stock and has no production lead time posted then we typically ship with 3-5 business days. This may vary with holidays, sales, and changing the political climate.
*Some items in an order depending on the supplier of the product will be shipped together. This means if you have 4 items in your order, and one of those items has a 3 week lead time, all 4 items will ship together once the 3 week lead time has been met.
Your Order Status:
If you would like to inquire about the status of your order don't hesitate to get in touch. Email [email protected] or give us a call at 202-850-0352. Please include your order number or relevant email/shipping address used at the time of purchase. This information will help us expedite your request.
Shipping Method:
Most orders will ship FedEx, USPS, or UPS with tracking information, which will also be provided via e-mail as soon as your order leaves the warehouse. Some lightweight items may ship using different FedEx services, and will also include tracking information. Once shipped, transit times vary between 2-5 business days depending on location. We do not ship to APOs due to BIS and ITAR regulations and the nature of our products. We ship to PO boxes in the United States, but it is the customer's responsibility to check to make sure theirs can accept large boxes as large as 32"x20".
Your Satisfaction is Our Top Priority:
We want you to be happy with your purchase. Please do let us know if you aren't satisfied with your order. We're here to provide a quality product at an affordable price point and want to meet your expectations.
Technical Issues:
If you have purchased a Vaultek Safe from our website and are having technical issues with the device please call Vaultek at 407-329-4164. 
Return Policy:
At Marine One Tactical, 100% customer satisfaction is always our goal. We understand that issues with orders may arise from time to time that needs to be addressed.
If you think there may be a defect with any of the products you purchased from us, please contact us for store credit or an exchange of the product. Marine One Tactical will accept requests for store credit or exchanges on all products, excluding medical gear filled with medical products, food-related products, and Level 3, Level 3+, and level IV body armor, within 30 days of delivery. Refunds will not be issued for products that were delivered as described on our website. Store credits are active and able for use for up to 365 consecutive days. After the 365 consecutive days, the store credit will be not available for use. 
Once the request is submitted, a customer service agent will review the request and send a return label via email. If you prefer a return label be mailed to you, please let us know in advance. Include the return information sheet inside your package and follow the return instructions page which will be provided with the return label.
After the product arrives at Marine One Tactical, it will be inspected, and your request will be processed. You will receive your store credit Within 3-5 business days of arrival at our facility, you will either receive your store credit or the exchange items will ship out as soon as their posted lead times, if any, will allow.
Sales of promotional, seasonal, discontinued, and clearance items, as well as e-gift cards, are all final and cannot be returned or exchanged.
Return Instructions:
If you would like to submit a return, please fully read the Return Policy above, submit a claim within 30-days of receiving your items, and follow these instructions:
1. Send an email to [email protected] 
2. Provide your name, email, order number, and the reason for your return.
3. A customer service agent will review your claim and send you a confirmation email stating it was received along with a digital copy of a return label and instructions. The cost of return shipping will be deducted from the credit amount.
4. Upon arrival and inspection of the product, within 3-5 business days, you will either be issued a store credit, or an exchange of product will be shipped out.

Note: If a claim was not submitted via web, email, or by phone, the return will not be valid for store credit or exchange. Please make sure to contact us in advance to ensure the most timely and appropriate response.